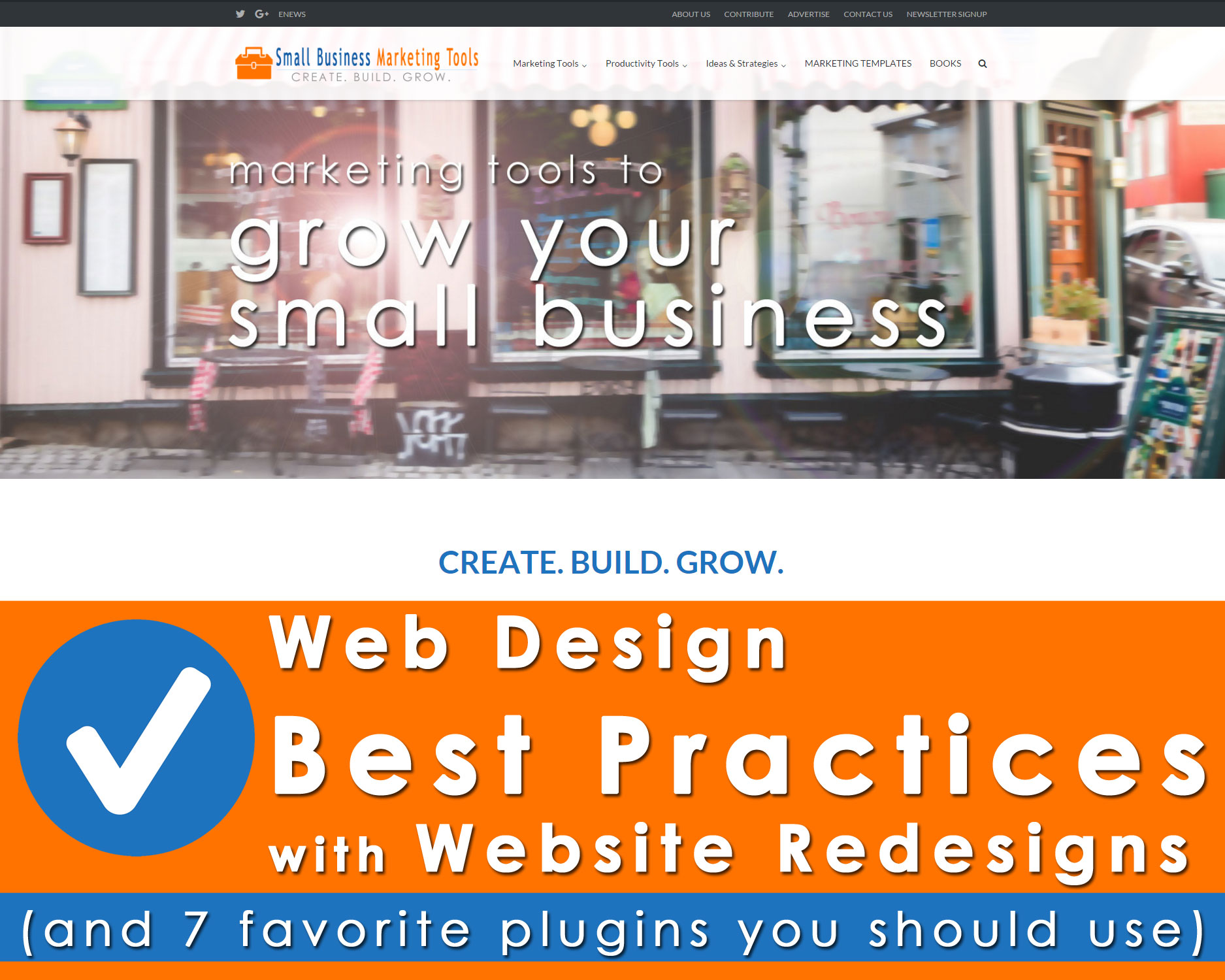 You may have noticed that Small Business Marketing Tools recently implemented a new site design. It's a New Year, so we figured  it seemed like a good time to roll out a new design.
We think its cleaner and easier to navigate (something that should be the main driving force for any website redesign). When we selected the new design we also tried to incorporate some design best practices that have become popular on sites these days. So that seemed worthy of a write-up to share some of our best practices.
You'll also see a round-up of my favorite WordPress plugins at the end.
---
---
WordPress Theme
One of the best things about using WordPress for your website content management platform is that you can easily swap out a theme and change the entire look of your site without hiring a web designer.
The tricky part is selecting the theme you want to use (there are SO many to choose from) and then finding one that has customization options you may need. As you sort through the many, many options try to narrow your focus down to the main functionality or feature you are looking for or hoping to implement. For me, I wanted a theme that could be full width with a sticky header (yes, but I was stuck on sticky).
If you are still considering WordPress for your website I highly recommend you give it a try. If you are using a website builder or web designer for your website (which is an easy way to go if you are really not techy at all… nothing wrong with that), you may have to rebuild your site to get the files on WordPress. I actually went through this process 2 years ago with SBMarketingTools.com and in the long run it was worth it. My traffic was better and my control over functionality was improved… but it was a little complicated.
Getting Set-up with WordPress

If you are looking to pop up a micro-site for a side business or niche market, then definitely give WordPress a try. You'll need to purchase a custom domain to be on WordPress.org – which is preferred because you have WAY more functionality than a free WordPress.com account. I always buy website domains from GoDaddy – the purchase process is easy, affordable & its easy to manage the DNS for hosting (which I set up with a different vendor – more on that in a second).

---

Then, you'll have to set up a hosting account to host the custom domain. I was always told it's a best practice to have your domain & hosting with 2 different companies – that way if there is ever an issue you don't have all your eggs in one basket. My recommendation has always been HostGator hosting – pricing & reliability for me has been great (this link will get you a discount btw!). For a single domain you'll only spend around $5/month.
Website Design & Functionality Elements
Here are some of the website design elements I was looking for with my redesign:
Responsive Design – a no-brainer these days… you MUST have a fully responsive design on a website or a mobile version of your site. In fact, Google will now penalize you if your site is not mobile-friendly! I personally think it makes the most sense to have a responsive design vs maintaining a separate mobile site design. But depending on the complexity of your site and business it may make more sense for you to have a separate slimmed down mobile version (or even use a DIY tool like Como to develop your own mobile app to cater to repeat customers).
Sticky Header – this is when your header with logo & menu shrinks up a bit and stays at the top of the page as someone scrolls down the page. I like this because your navigation & branding is always with you. Some themes do not do this on mobile (like mine, but I'm OK with that).
Full Width Features – many new website designs use the full real estate of a browser window and that was something I wanted to use with my redesign. Using both a full width header & footer with full width slider.
Parallax Images – this is a slick new feature you see on sites to give more movement. As you scroll past an image the container changes creating a movement effect. LOVE and will be using more on my sites in the future.
Multiple Menus – having the ability to segment your content with primary content and action content (like contact, advertise & about us info) is important to maintain easy to use navigation.
Easy Customization – you need to make the theme your own – from adjusting the page layouts to using colors that complement your business logo, make sure you have enough access to customizing options without digging into the code (unless you like that sort of thing – but I sure don't!)
Branding – finally, a website redesign is a good time to take a look at your logo. Is it time to give it a refresh? We did for Small Business Marketing Tools – we kept the same colors but changed out the gear icon for a toolbox icon. We even added a little tag that ties in nicely with the overall objective of the site: "Create. Build. Grow." Make sure you update ALL of your other branded properties in the process – social media sites, e-newsletters, offline marketing materials, etc.
WordPress Plugins
To make everything run & look the way you want it to you will no doubt have to use a handful of plugins to make it happen. Most of them are free, but if it is a function that is important to you upgrading to a pro version is often very affordable & worthwhile.
Here's a round-up of some of my favorite plugins:
Meta Slider – the free slider functionality happens to be built into my current theme, but I'll probably upgrade to pro soon to take advantage of more slick animation and layers.
PageBuilder by SiteOrigin – this is a must-have plugin if you want to create pages on your site that take advantage of widgets. You can create columns within a page or post and then use widgets wherever you want. You can even make individual rows of content full width or parallax to break up a page visually.
SiteOrigin Bundle – this bundle of widgets includes a lot of cool features you can use with PageBuilder – like buttons, headlines and post carousels.
CodeLights for SiteOrigin – another bundle of widgets that work really well with PageBuilder – I am using the flip boxes on the homepage of my site and the testimonials widget on my marketing plan template page.
Content Resharer – this plugin helps me automatically reshare content on Twitter to help keep older posts alive and new content in my feed. It lets you exclude certain posts you don't want to reshare and even use custom hashtags with posts. Best of all, it reshares with the post image!
Sumome – for easy to use pop-ups or notification bars, this plugin can help you increase your number of e-newsletter subscribers.
WordPress Author Plugin Widget – this plugin helps me easily promote the many contributors to my site to give them visibility. As an added bonus, it helps to recruit new contributors who may want to join the site. Its important that this site be collaborative sharing many best practices so I am always looking for experts that want to be contributors.
A website is an ever evolving thing that you need to keep tending to throughout the year. I fully intend to build on the redesign throughout the weeks and months ahead, check out new plugins as needed. And of course I'll be paying attention to traffic metrics to be sure that the changes have a positive effect on overall site traffic (steady or increasing page views, no increase in drop-off rate, etc.)
What are some of your best practices that you intend to implement in your next website redesign? Share them in the comments below!
---
---
The following two tabs change content below.
Latest posts by Diane Seltzer (see all)