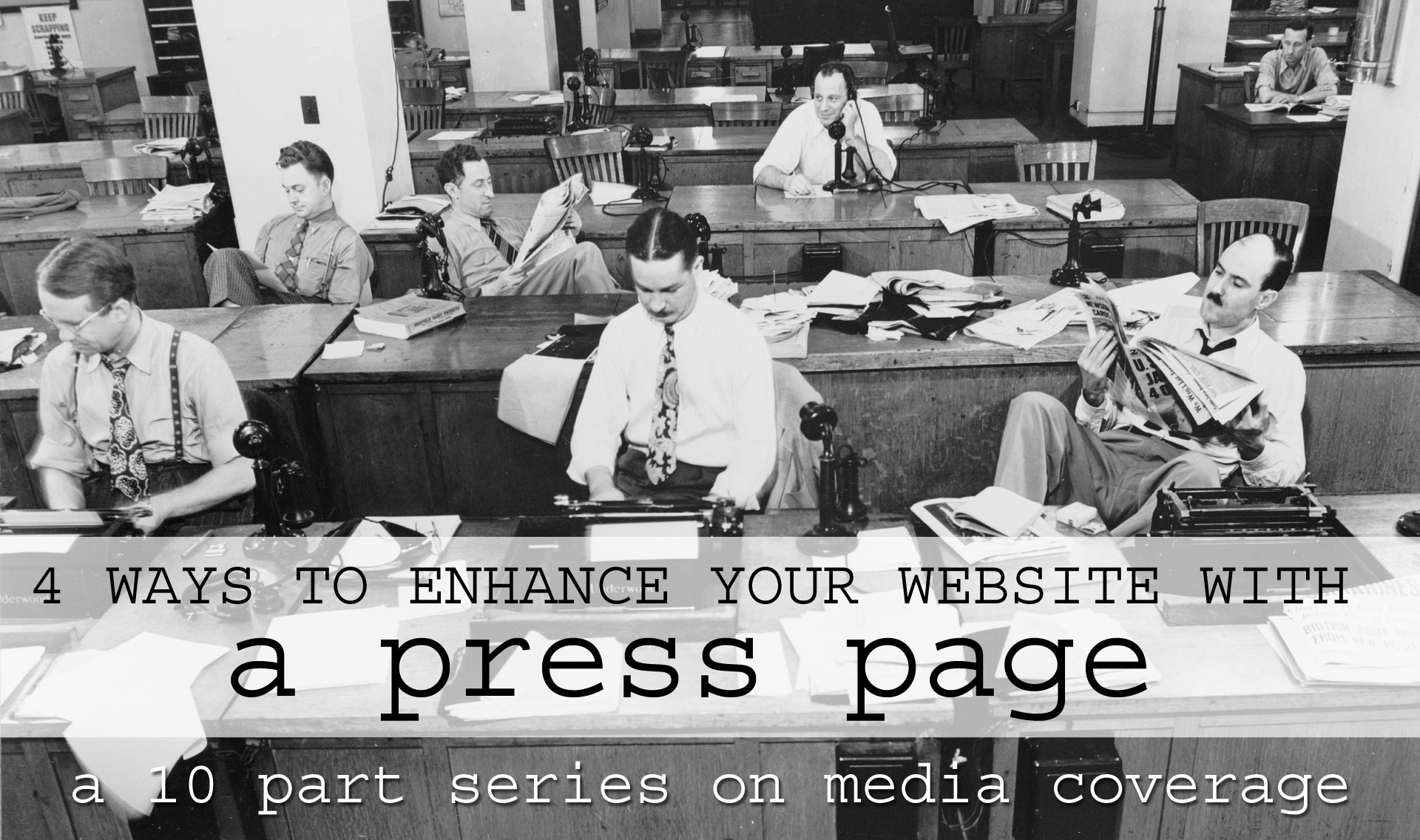 10 part series on Media Coverage
Your website is a hub for all things related to your business. A website press page will help guide visitors and media alike to the latest and most relevant happenings that you want to showcase. Most importantly, a good press page will help attract and motivate more media to provide coverage for your company.
Here are 4 ways you can enhance your small business website with a press page.
---
---
Keep Your Website up to Date
Make sure that you are consistently updating your website. Does your blog have updated posts? Is your contact page up to date?
If you haven't performed any updates to your site, now is the time to take inventory of what is needed and what should be updated. Why is this important? Think about that last time you visited a website and it looks like the last update was made two years ago, or it looks outdated. Think about how you felt, maybe comparing the site to another that updated a few hours ago, this is important not only to future customers but to the media as well. They want to see that you are engaging frequently, not sporadically.
Create a Press Page
Even if you don't have anything to add to it at this time, you can put "coming soon" on the page. This will help motivate you to get some interviews scheduled or write some articles. Your press page should include links to interviews, articles written and you can spruce it up a bit and add the show or station logos.
Links are critical so website visitors can click on the links to read your articles or listen to your interviews. If you make graphics for your site such as "Seen on" ALWAYS include the links. Be sure that you give visitors the option to view or listen. Members of the media may want to see how you conduct yourself during an interview or review a sample of your writing, make it as easy as possible for them to find that information.
Consistently Add Appearances
Always be looking for media opportunities for your business. Create a media calendar for yourself, do a media blitz every 90 days or set a goal to get interviewed twice a month, whatever you feel comfortable with in regards to your time.
Make sure you update your social media profiles to reflect any new appearances. Always keep SEO in mind when you are creating links, think in terms of what your potential clients search for when they are looking for your type of product or service.
Promote Your Press Page
You can use your press page to your advantage. For example, if you have an email signature, add your latest interview to it. If you send out an email newsletter or any company updates include a link to your press page and let them know what's new with your media coverage. Such as, "Listen to my latest interview as I share tips on getting yourself booked as a speaker". Make sure the tagline gets their attention, clicking on that link because they want to learn more.
Another great way to use your media encounters is with sales efforts. The next time you send out an email to a potential client, include a link to your press page or latest interview. What a great way to showcase your expert status and offer helpful advice to your potential customers. Sometimes that is all it takes to get a prospect on board.
Read the full 10 part series on Media Coverage
---
---
The following two tabs change content below.

Kerry Heaps is the Publisher of
Strictly Marketing Magazine
dedicated to providing valuable marketing content to Entrepreneurs Nationwide. She is the Founder of
Pitch like a Bitch Media
, which provides valuable media opportunities to Entrepreneurs who seek more media coverage . Kerry's passion is helping Entrepreneurs with their marketing efforts. She is a sought after guest and has been featured on many media outlets.

Latest posts by Kerry Heaps (see all)