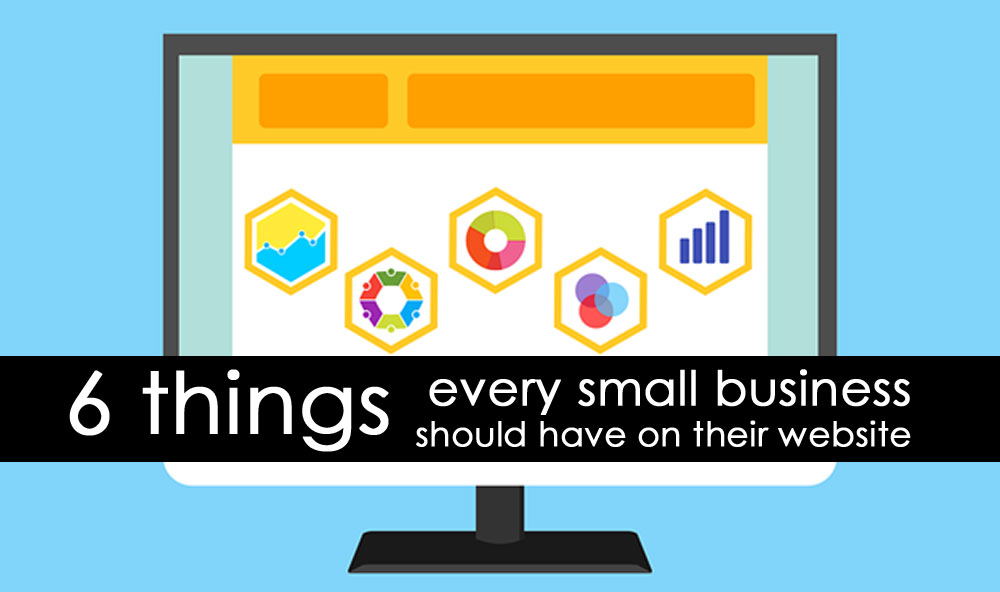 Many small business owners assume that consumers aren't searching the internet for local businesses. They're wrong. In all actuality, 97% of customers search online for local products and services.
Today's consumers expect all businesses — even small ones — to have an online presence. That means, if you don't have a website, you're likely losing business to competitors who do have one.
Often, it's not knowing where or how to start that keeps small business owners from creating a website. Getting a website up and running can seem complicated. And as for what to put on the site once it's up, well, that can be equally as daunting.
Thankfully, there are a wealth of easy-to-follow templates available — and pricing options galore. Creating a professional site is not only simple, it's affordable to boot.
Even the most uncomplicated of websites can generate business — provided you know what information to share.
To give you a leg up, I've put together a list of six fundamental components every small business website should include.
---
---
A Domain Name & Hosting
Your domain name is incredibly important, and getting it right is paramount — after all, this is the URL you'll be advertising to customers. It has to be easy to remember and as short as possible.
Industry standards — and common sense — point to the name of your business as the best option. If at all possible, avoid abbreviations, acronyms, and numbers, as these tend to confuse customers.
Once you have a domain name, you'll want to choose a web hosting plan that fits your website size, type, and traffic. I recommend starting with an low-priced hosting plan, and move to something more robust once you outgrow it.
Although it's tempting, do not use a free host! If you want to look professional, you need to shell out a few bucks for a web host and domain name every month. It will make you look far more polished and trustworthy.
An About Page
Potential customers want to know who you are — and most importantly, that you are, in fact, a real person. That's why the about page is often the second most visited on a website. The copy you write for this page will help you build trust and make a connection with your customers. It's crucial you provide enough information for them to know, like, and trust you.
Writing an about page can feel like an exercise in futility. It's hard to know what information is useful, and what's unnecessary.
A good about page should include:
An overview of your business
The history of/how you started your business
Any awards or special recognition the business has received
How your business differs from competitors
A photo and short biography of yourself
You should also feature photographs of your employees. Include their name, position, and a brief biography. Adding pictures of you and your team gives an impression of transparency. Not only does this foster a connection with consumers, it also shows them that you're trustworthy — someone they want to do business with.
Products/Services Page
When potential customers visit your website, they're doing so to get a better idea of who you are and what you offer. Give them what they're looking for by providing information on all of the products/services you sell.
Open with a brief overview of your products/services and then list them below. Include brief descriptions of each product/service and professional photos (if you sell products). Do not use stock photos!
Customer Testimonials
Consumers rarely believe what businesses say about themselves, but they do believe what other people have to say. Word-of-mouth is some of the most potent marketing available — and it's free!
Testimonials enhance your credibility, trustworthiness, and dependability. They show potential customers that other people were satisfied with your product/service, and it increases their confidence to do business with you.
Dedicate a page on your site to sharing what satisfied customers have to say about your business. Include photos and contact info (with permission) in order to demonstrate the authenticity of these testimonials. If you don't have any testimonials, you can get started by asking your top customers to write a quick review on your product/services.
Quality Content
Give customers a reason to return to your site with a regularly updated blog. Not only will a blog keep customers engaged, it also positions you as a thought leader within your industry and gives you a medium to announce changes to your products/services.
Furthermore, the more readers attracted to your blog, the more likely it is that these visitors will share your content — creating backlinks that cause search engines to look favorably upon your website.
Your content needs to be well written, valuable to readers, relevant to your products/services, and completely original. If writing isn't your strong suit, hire a professional freelance copywriter. While the cost may seem like one you can forgo, it's actually an important and worthwhile investment.
Contact Information
Hands down, the most vital information to include on your site is your contact information. If customers cannot get in touch with you, you will lose their business! Make it easy for potential customers to communicate with you — and give them options so they can do it on their terms.
Offer a phone number, email address, and contact form. Besides giving this information it's own page, you'll want to place it in the header, footer, or sidebar of every page on the site. You want visitors to be able to find it as easily as possible.
Your contact page should also contain your hours of business, street address, and a map to your location. For added credibility, include a photo of your storefront or your business address.
Your website is often the first impression you make on a customer. That's why it's important to tailor your site to offer exactly what those customers are looking for. By including a detailed about page, information on products/services, customer testimonials, valuable content, and easy-to-find contact info, you're sure to see and definite increase in business.
---
---
The following two tabs change content below.
Liz Greene
Writer, Marketing Specialist
Liz Greene is a writer, marketing professional, and full blown pop culture geek from the beautiful City of Trees, Boise, ID. When she's not stalking the aisles of her local Ulta, she can be found shoveling down sushi while discussing the merits of the latest Game of Thrones fan theories.
Latest posts by Liz Greene (see all)