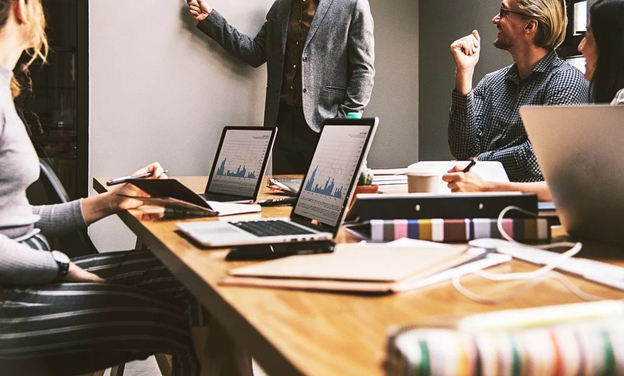 Making these tech investments for your business will ensure you remain productive and competitive as business technology evolves
With new technologies like help desk software on the rise, there has never been a better time to invest in your business's future.
This article will outline how software and other tech products can help small businesses of all shapes and sizes by giving them an edge over their competitors. Let's get started.
---
---
1. Human Resource Software
Human Resource (HR) software gives businesses the upper hand when it comes to staying on track. An organized system helps in all areas, from payroll and scheduling to interview management and performance reviews.
HR software makes everything easier for managers so they can focus on running their operations.
2. Help Desk Software
One thing businesses need more than anything is help. Whether improving workflow or fixing an IT issue, having a reliable system in place is crucial for companies of all sizes. Leveraging the power of "help desk software" can help any company troubleshoot issues by providing detailed information about their technology stack.
When choosing a help desk software, look at the individual features as this helps you pick the right one for you.
Consider finding the tools which are customizable to meet your business needs. Nowadays, it's common to find help desk software for small businesses which are intuitive. This minimizes the chances of errors occurring.
3. Customer Relationship Management Software
Customer Relationship Management (CRM) software allows businesses to stay on top of their customer relationships through effective communication.
With the ability to access customer information in real-time, use automated email marketing, or see your interaction history all in one place, CRMs are indispensable for growing companies.
Paying a full-time employee's wages requires a sizable investment on the part of a small business. To make matters worse, if they don't work out, it can be challenging to find productive members to replace them with.
Freelancers and contract workers make excellent short-term solutions as they are cheaper and more flexible; however, managing these relationships can be complicated.
4. Employee Productivity Software
When employees have to work with multiple programs, they can lose their productivity. Employee Productivity software allows workers to access all of the applications they need in one place so they won't have to switch back and forth between pages. It helps your employees stick to a schedule that works for them while staying on track with their goals.
5. Customer Service Software
Customer Service software can help businesses stay ahead of their competitors. With the ability to respond quickly and efficiently, companies can maintain a healthy level of customer satisfaction that will keep them coming back for more. Not only will they be happy with your work but they'll recommend you to others as well.
6. Research and Development Software
Having the edge over your competitors requires dedicating resources to continue innovating. This can be difficult for small businesses looking for ways to cut costs, but there are ways around this. Putting your ideas into action is made easier through Research and Development software that takes care of everything from workflow management to intellectual property protection.
7 Cloud Computing Tools
The cloud isn't just for personal use anymore. Cloud Computing gives businesses access to instant storage with the ability to share all of their data in real-time.
Having everything on hand means no more wasted time looking through files or finding the most recent version of a document. Cloud storage can keep everything safe and secure while keeping employees on task.
By investing in the latest technologies, small businesses can stay ahead of their competitors. There is a constantly growing market for tech products. They can help such businesses to get on board and hit the ground running. Investing in your business now will put you at the front of the line.
---
---
The following two tabs change content below.

Editorial Staff
This article was written by SBMarketingTools.com editorial staff.

Latest posts by Editorial Staff (see all)