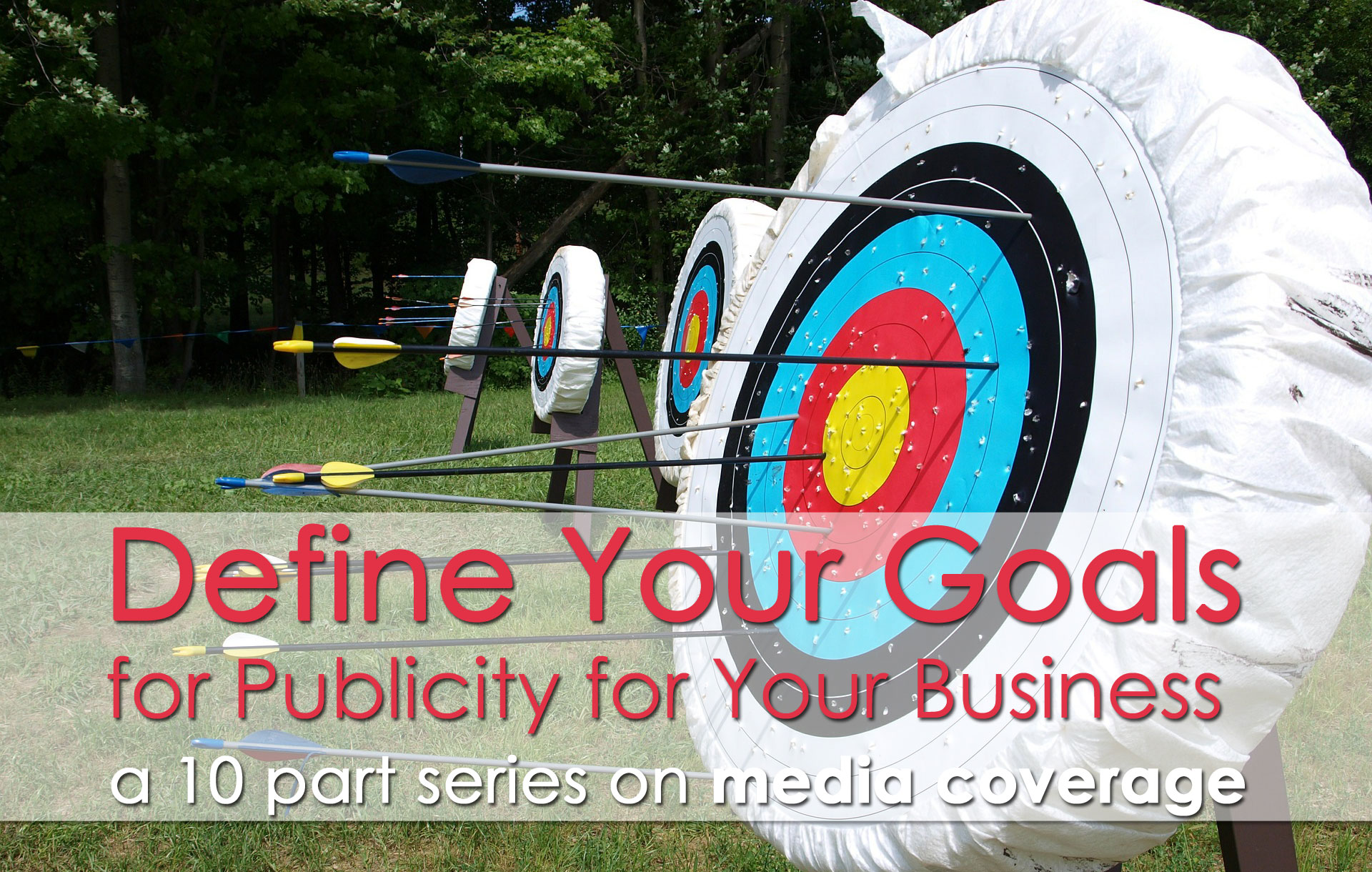 10 part series on Media Coverage
Step 1 – Define your Goals: Are you ready to get publicity for your business?
If I asked you what your goals were regarding publicity for your business I can bet that your answer would be "to get more business".
Although that is the ultimate goal of any entrepreneur it shouldn't be the first goal. "But isn't getting more business what it's all about?" My answer is of course yes, however, you need to have other goals in front of that. For example, you may consider yourself an expert, but does anyone else? How do you remedy that…get interviewed.
Below are a few common goals that regardless of your business, you should make these your own goal to increase your business through publicity.
---
---
Personal Goals
This is the most important part: what are your personal goals right now? What types of media do you want to get started with… just podcasts… writing some articles? Figure out what you have the time and expertise for right now.
Why is time important to this process? Because you are going to dedicate some time to your media endeavors. Writing articles takes longer than doing podcast interviews, each interview you want to factor an hour or so between preparation and the actual interview. So, do you have 3 or 5 hours per week figure out how much time you want to invest right now.
I have a current client that only wants to do podcast or radio interviews, they don't have the time to dedicate to writing articles or television interviews. You also need to consider what you feel comfortable with, if you are not the best writer, don't write any articles! Practice writing your own blog, talking about your expertise and writing about it are two different things.
Media Calendar
You should also take the time to map out your media interactions within a year timeline. Get a separate calendar that you can schedule your plans for media coverage throughout the year.
Why is this important? Media isn't always right at that moment, you will find as you do podcast interviews that the interview might be today, but it won't get released to the public for a few weeks. This is normal based upon the publishing timeline of the podcast.
At Strictly Marketing Magazine we ask for article submissions two months prior to publishing. Every media outlet is different and you want to have a steady flow of press throughout the year if you can. I personally do a "Media Blitz" over a 90-day time period. That way, I'm pretty consumed with the production for that time period and promoting over the next 90 days. Figure out a system that works for you and your business, there is no wrong way to create your calendar, unless it's an empty one.
Establish Yourself as an Expert
You may be screaming right now, "But I am an Expert!" – so glad to hear that you're on board, now let's get everyone else to come along as well.
Not only does being in the media bring attention to you and your business, it helps to establish yourself as an expert in the eyes of others. When you get interviewed, whether it's an article you've been quoted in, one you wrote or a podcast interview, the audience has an opportunity to evaluate what you're saying and make their own determination. It's your job to educate them. Interviews are typically found online which is great for your SEO. For example, if you just wrote an article offering tips on creating a system for small business bookkeeping and someone searches for that or a similar title, depending upon the site ranking and keywords your article could pop up on the 1st page of their search results. What a great way to find a new customer!
Create Buzz for your New Product or Service
If you've just written a book or you've got a new service your offering, what a great new opportunity to educate the public with an interview. For example, one of my current clients in the financial industry partnered with a software company that offers a human resources solution for businesses, covering payroll, taxes, benefits and so forth. This was an opportunity to come up with a new topic to be interviewed on in addition to sending out a press release. These interviews will come in handy on their press page as well. Sometimes potential customers may be sitting on the fence about hiring you and hearing an interview or reading an article that you've penned can be all they need to come on board.
Gain Credibility
The media, whether it's a local news station, radio station, podcast or magazine carry weight. To gain public credibility you need to get exposure, before I really started to leverage the media and get interviewed I would find that some of the clients I missed out on went with someone else that they found online through an article or interview, or even someone that was featured on a special segment. They got more coverage and got in front of more people, it's just that simple.
Our next article will focus on the next step of evaluating your website and Press/Media page. Look forward to talking with you next month!
Read the full Media Coverage Series
---
---
The following two tabs change content below.

Kerry Heaps is the Publisher of
Strictly Marketing Magazine
dedicated to providing valuable marketing content to Entrepreneurs Nationwide. She is the Founder of
Pitch like a Bitch Media
, which provides valuable media opportunities to Entrepreneurs who seek more media coverage . Kerry's passion is helping Entrepreneurs with their marketing efforts. She is a sought after guest and has been featured on many media outlets.

Latest posts by Kerry Heaps (see all)