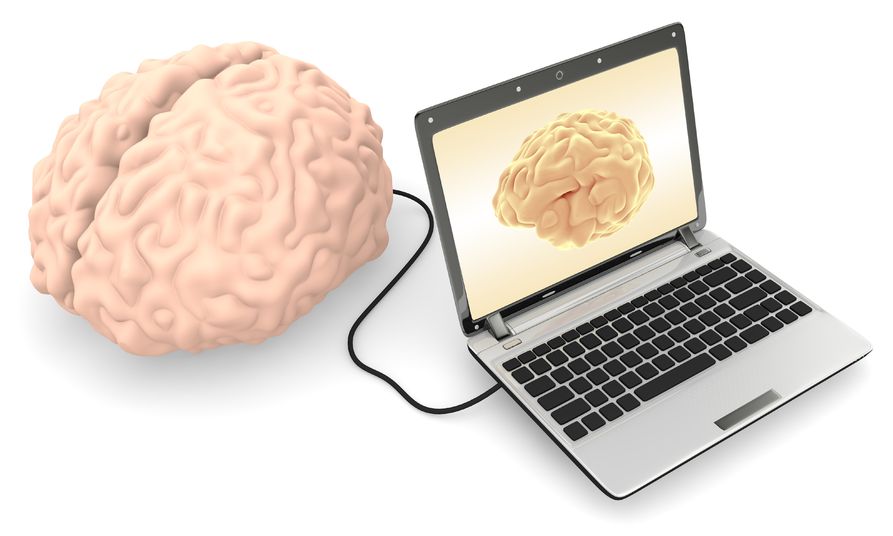 How businesses can leverage keyword tools and research strategies to optimize Google's RankBrain search results for websites
RankBrain is upon us, and marketers everywhere want to know how it impacts their work.
Businesses with an online presence, which should be all businesses at this point, need to understand the correct way to use keywords in their copy and website components to help their brand become more visible on the major search engines. The idea is not a new one, but leveraging keywords is one of many SEO strategies that every business must master.
In 2015, Google launched RankBrain. Essentially, Rankbrain is a machine-learning artificial intelligence system that allows Google to process search results. This type of AI is important for one-of-a-kind or rare search queries. More simply put, RankBrain is a computer system used by Google that is constantly evolving and able to provide accurate results for uncommon search queries.
Businesses that want to keep up with the search engines need to improve their keyword research in order to write original pieces that are search-engine friendly.
---
---
Tip 1: Keywords in your URL
The structure of a URL is crucial when working to improve search engine rankings. This is not a new tip, however, as it has been around for years. Companies must ensure that all of their pages, not just the important ones, follow the right guidelines.
However, many businesses still fail to put it into practice. Including keywords directly into the URL makes it easier for Google to understand what the page is about. If Google can easily identify what the page is about it has a better chance to appear in the search rankings. As a best practice, URLs should be short and to the point.
Take a look at the two URLs below:
Both pages have tax form resources, but only one URL actually has the term "tax form". Of course Google is smart enough to figure out what a page is about without the URL, but it is best practice to include these important keywords to support your ranking efforts.
Tip 2: Leverage LSI Keywords
In the old days of the internet, the ranking algorithms were unable to understand that two keywords were the same. For example, "gifts for him" and "gifts for men" might have been viewed as separate keywords.
RankBrain almost removed this issue completely and expanded the use of keywords for marketers. The AI interprets the purpose of the content when looking to provide relevant results to the exact words that were searched for.
Latent Semantic Indexing, or LSI, has made it possible to use variations of a keyword or idea. This makes it easier to write web copy since marketers can focus on a group of similar keywords instead of only one. For example, a photographer that is trying to improve their ranking for their work as a "newborn photographer" can now benefit from including the following keywords or phrases into their pages or posts as a group:
baby photographer
newborn portraits
newborn photos
photographer
Business should consider what keyword variations their target market is using in search engines when establishing a list of LSI keywords. Marketers struggling to establish a keyword group can use online tools such as LSI Graph. This is a free tool that provides related results based on a keyword search: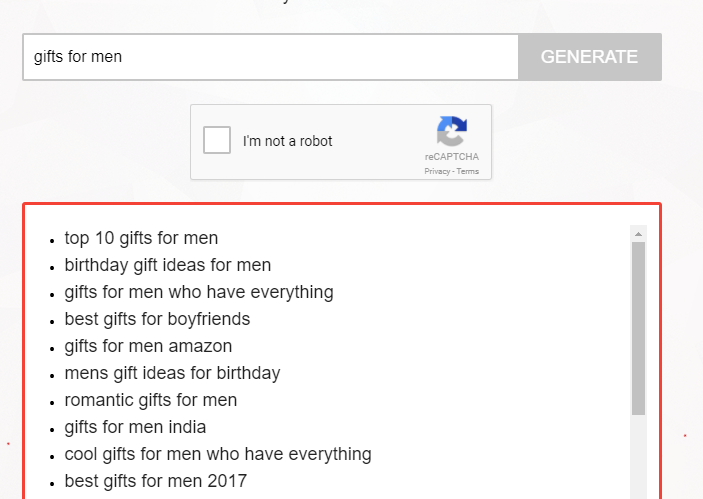 No matter your industry, you can use LSI keywords in copy, URLs, and even the title tags of your pages.
Taking a look at the Google results for "Gifts for men" we see a variety of LSI keywords used in title tags and URLs. Here is an example:
The query was "gifts for men" but we are seeing pages from Personal Creations, Cosmopolitan and Home Wet Bar leveraging different LSI keywords.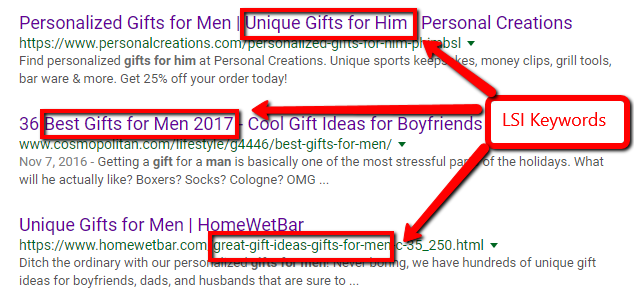 Tip 3: Keyword Intent
Another factor to take into consideration during the keyword selection process is keyword intent. Intent is extremely important because this is a clear indication of a user's position within the sales funnel. The position of the sales funnel is crucial for your content creation efforts.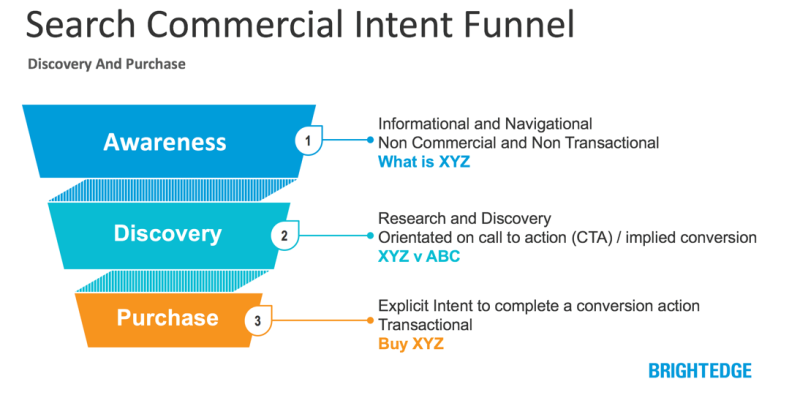 Source: BrightEdge
For example, say you sell sunscreen. There is a huge difference in intent for someone searching "What is SPF?" and "SPF 50 Sunscreen". In the first example, the user is looking for information and in the second the user is looking to buy. It would be folly to write a page about SPF and try to rank for the term "SPF 50 Sunscreen" because the user's intent is so different.
Let's look another more ambiguous example in the sunscreen industry. The term "Powder Sunscreen" does not reveal the full intent of the keyword. Does the user want to learn about powder sunscreen or purchase a specific product? It is hard to tell. Google knows this is ambiguous and gives us a lot of different results: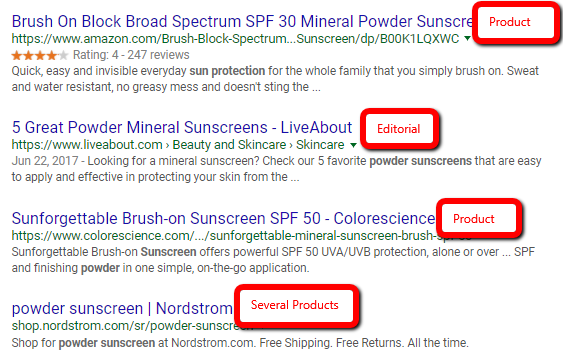 We see several different results because Google is not 100% sure the intent of the query. We see an Amazon product, a Liveabout.com article on powder sunscreens (notice the LSI keywords), Colorescience's powder sunscreen which is a product, and Nordstrom (we all know this brand) has a whole page of powder sunscreens to choose from.
The key takeaway here is to always look at Google's results before deciding what keywords to choose for your piece.
Tip 4: Use All the Tools to Find Keywords
There are many online tools and services that have been created to help businesses determine which keywords they should be including in their web content. The most important thing to consider is the keyword volume and keyword difficulty.
Keyword volume is usually an average monthly search number and difficulty (measured differently by different services) is how hard it will be to rank a new page for a keyword. Try to find a sweet spot where the volume is strong and the competition is not as strong.
Keywords Everywhere is a great tool for those on a budget because it makes finding keyword volume easy during the exploratory stage: 

Companies should be utilizing these tools in addition to other marketing tools, to improve the selection and use of keywords.
Tip 5: Technical Keyword Positioning
Google cannot find your content if you do not have the right technical components in place. The following concepts and strategies should be implemented by businesses:
Do not hide text – In the past, companies were able to improve their SEO ranking by "hiding" text on their web pages. This strategy was helpful for a short time until Google caught on. Google does not like hidden text. This strategy should be avoided as it can hurt instead of help SEO rankings.
Include keywords in H1 headings – This location is a great way to show the search engines what the page is about. The heading should be relevant to the keywords you are targeting.
Use internal links – A company can show the relevance of their site, pages, and keywords by using internal links within their pages. This also helps to increase the amount of time that a user stays on your site, thus increasing the chance of converting to a sale.
Schema Markup – Schema markup is code that is placed on a website that assists search bots in providing more detailed and accurate information in the snippets that are returned in search results.
Follow ADA requirements – Businesses should ensure that their site meets the ADA requirements by making the text readable by text-to-speech programs. This can be accomplished by an HTML addition.
Tip 6: Mapping Keywords & Keyword Density
Keyword mapping is a process of choosing specific keywords for a specific page. This process can be started by mapping the 5-10 most relevant and important keywords for each page on your website.
Once this list is compiled, write the content (if not written already) and check the copy with a tool that checks for keyword density. A good ratio to look for is 1-2%. Businesses should also take full advantage of this list by using the keywords as anchor text linking from other pages.
A great free keyword density tool can be found here.
The strategies involved with SEO keyword rankings are constantly evolving. In addition to creating engaging content, businesses looking to stay on top of the pack should implement these ideas into their online marketing plan.
---
---
The following two tabs change content below.
Nicole Stelmar is a Managing Editor at 365 Business Tips, a site geared towards helping small business owners grow their business. Nicole specializes in helping entrepreneurs master the art of content marketing and SEO.
Latest posts by Nicole Stelmar (see all)