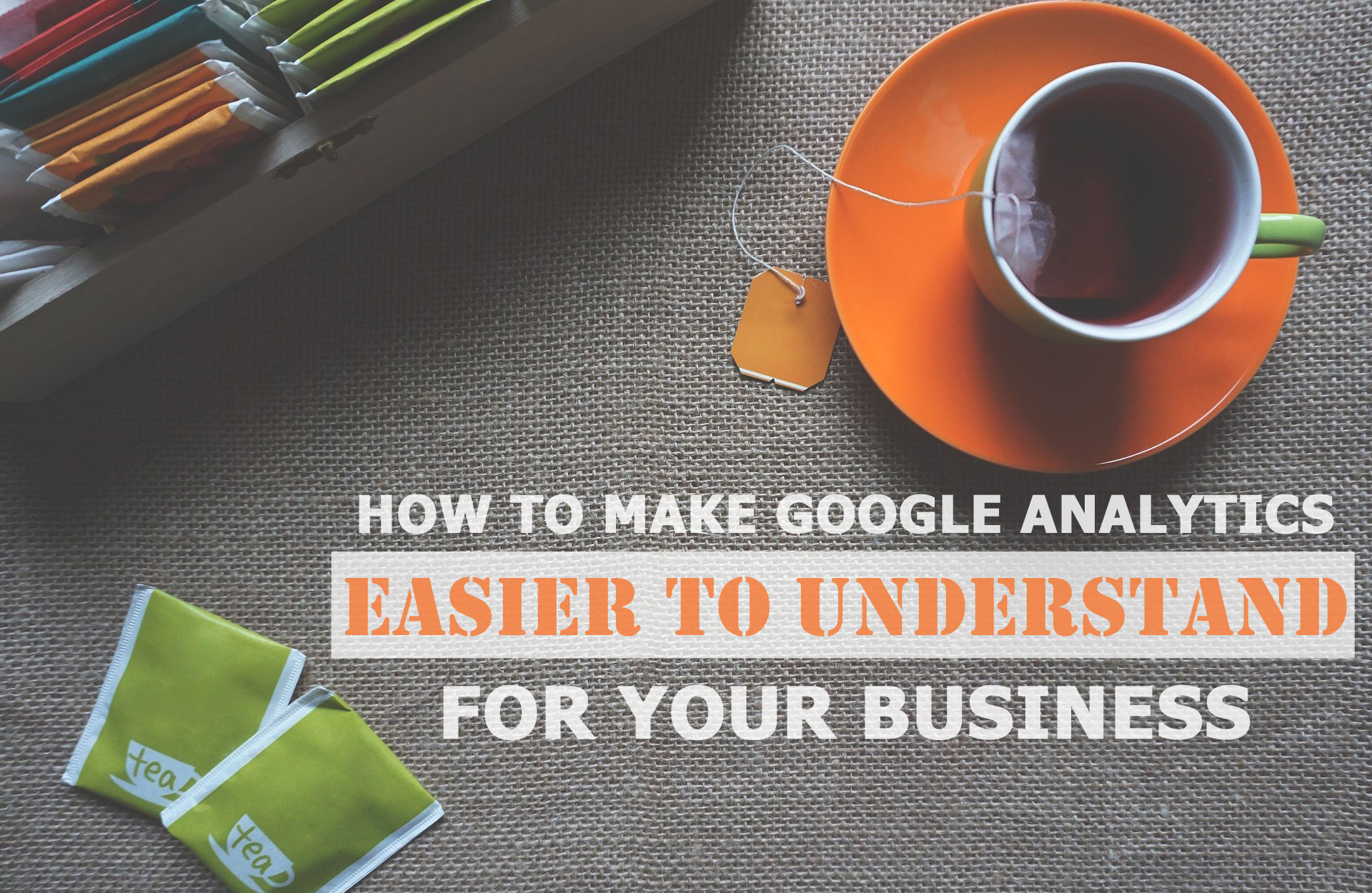 SPONSORED POST

Teacup Analytics works with your Google Analytics data to provide more clarify using a library of easy to understand reports that analyze the data in the context of your own audience, identifies opportunities and connects your actions to results.
Teacup Analytics helps small businesses make sense of website tracking metrics
Your website is often the heart of your business – whether you run an e-commerce store or simply use your website to attract new customers. Understanding how visitors find your website and how they respond to your content is critical to optimize your online marketing efforts and grow your business.
To understand website traffic, most businesses opt to include performance tracking on their website by installing Google Analytics. A powerful tool, Google Analytics has become the must-have tracking code to add to websites and relied on by thousands of businesses. It's free and it captures a ton of information. Yes, emphasis on the word "ton".
While it is true that Google offers amazing free tools like Analytics, they are often confusing, hard to understand and time consuming for the average small business owner.
The problem for many small businesses is the time (and expertise) it takes to sift through the wealth of information Google Analytics captures to make sense of your site visitors and their website activity. While the data is there, it's not easy to find – often hidden deep in multiple tabs, segmentation selections and ambiguous report terms.
How many times have you logged into Google Analytics, been overwhelmed with trying to dig through all the data and just gave up? Most of us are guilty of that.
---
---
Making Sense of Website Data
This Google Analytics information overload dilemma leaves small businesses feeling like they have one of two options:
Hire a professional to manage your website tracking and interpret analytics for you, OR
Ignore your website analytics and just keep hoping for the best
Hiring a pro is a luxury that most small businesses cannot afford… but ignoring your website data is also a mistake few can afford to make for their longevity of their business.
Luckily there is a third option that falls right in the middle – and it's truly a sweet spot for small businesses.
By linking up your Google Analytics account with a user-friendly utility tool like Teacup Analytics, you can get access to easy reports that actually guides you through your tracking data and keeps you on track for real actions to optimize your site.
Now, you may be thinking… oh great, add ANOTHER tool that gives me MORE data? But in reality you are simply using a type of utility that adds more clarity to all the data you are already collecting with Google Analytics.
Teacup Analytics was developed by Dean Levitt, a former co-owner of Mad Mimi newsletter platform that was acquired by Go Daddy in 2014. He took his years of experience with small businesses (and frustrations understanding their website performance) and worked with analysts and top programmers to build Teacup Analytics with the aim of making Google Analytics simpler to understand without sacrificing contextual data.
Check out this simply 3 minute video that compares Teacup Analytics vs Google Analytics:
Website Analytics with High Grades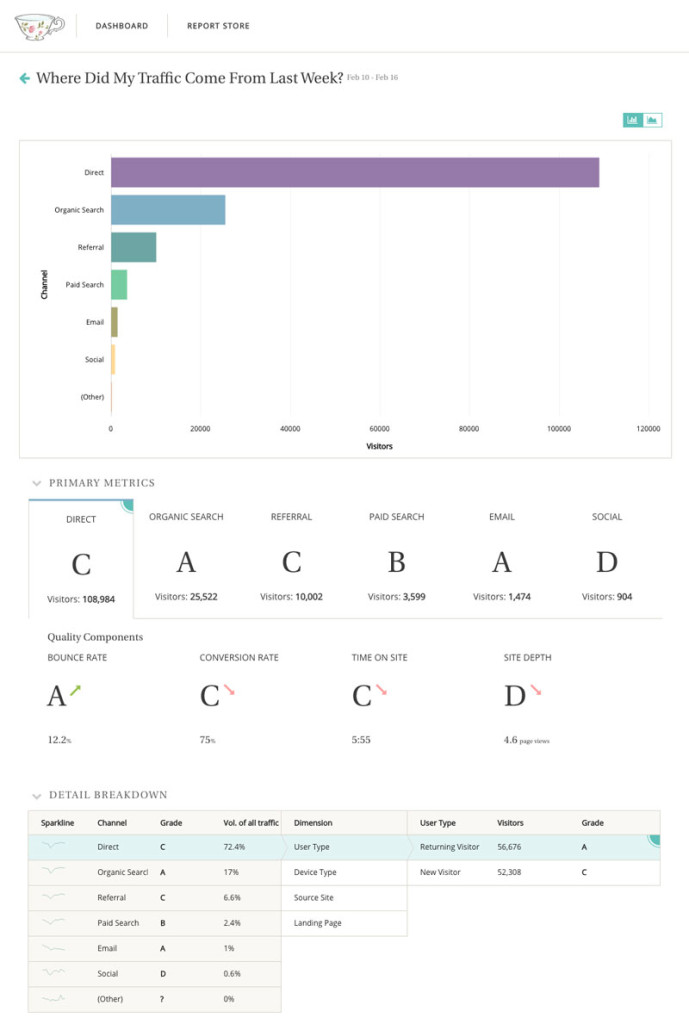 With Teacup, you get help understanding your website data in 3 important ways:
1. Library of Easy to Understand Reports
Using a simple Q&A format, you get answers to questions that real businesses need to ask to understand their website data.
– Where did my traffic come from last week?
– Which types of devices do people use to visit my site?
– Who are my top referrers?
2. Grading System to Add Context to Data
More than just raw numbers, by using specially formulated algorithms you can calculate the quality and value of your traffic as a grade so you can make decisions with all the relevant details
3. Achievables Feature to Monitor Actions
Get help monitoring changes in metrics after actions are taken so you know if the changes you are making to your online marketing really are working.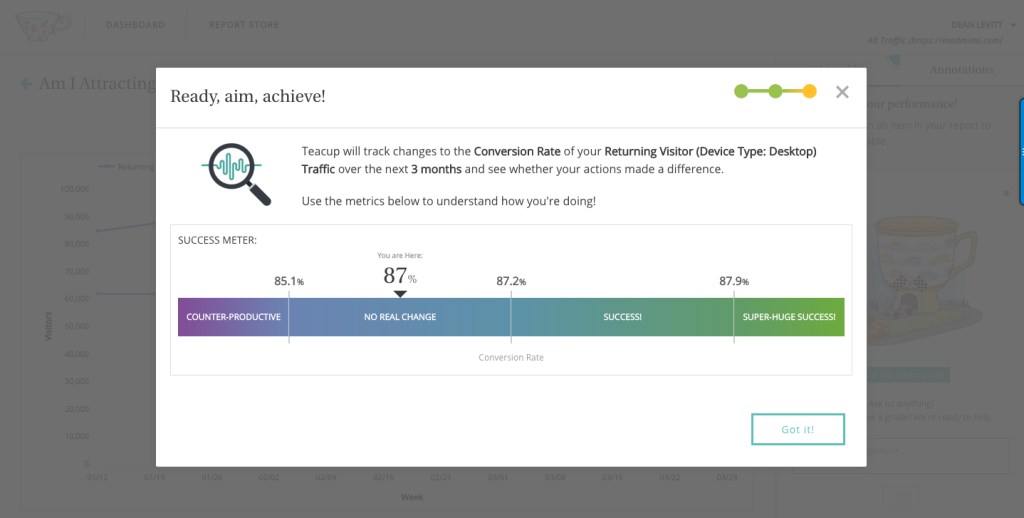 What's really great about Teacup is that it saves you time – something small businesses are always short on. You no longer have to sort through page after page of website data trying to piece together a comprehensive view of your metrics.
Other noteworthy features include:
Annotations: Add notes to your reports because context matters.
Ecommerce optimized: Understand your site's impact to your bottom line
Mobile first: Teacup works splendidly on all your devices
People power: The Teacup Team is on hand to help you make sense of your answers 24/7
No code: Set up takes less than 1 minute with OAuth 2.0 for authentication and authorization
With Teacup, they are so convinced you'll be convinced that your first report is free when you sign-up.
If you have been struggling with understanding your website data, Teacup may be just the right tool to gain real insights and optimize website traffic for your growing business.
---
---
The following two tabs change content below.

Small Business Marketing Tools offers sponsored content opportunities for businesses with relevant small business product or services. Build your brand while offering valuable content to growing small businesses.
Learn More.

Latest posts by Sponsored Post (see all)