---
---
Free downloadable marketing plan templates help small businesses create and implement cost-effective marketing activities to meet annual business goals and objectives
Small Business Marketing Tools, an online destination for low-cost marketing tools and resources, releases a free collection of easy-to-use annual marketing plan templates to help small businesses maximize their integrated marketing strategies and tactics throughout the year.
The marketing plan template collection developed by Small Business Marketing Tools includes a variety of planning formats that guide businesses through the process of creating, implementing and tracking annual marketing activities.
Templates available for free download from SBMarketingTools.com include:
Each marketing plan template set includes a blank worksheet or outline along with a sample data worksheet to demonstrate how businesses can effectively use the tools. The templates are designed to be flexible for a variety of business types, industry segments and marketing activities.
"The best way to maximize a small marketing budget is to develop an annual marketing plan that clearly outlines your goals, strategies and tactics for the year," says Diane Seltzer, founder and editor of Small Business Marketing Tools. "By offering these free marketing plan resources, we hope to help small businesses implement a cost-effective 2012 marketing strategy that meets their overall business objectives."
Looking for more annual marketing plan templates and resources?
Check out our Free Annual Marketing Plan Templates and Resources for strategy documents, detailed marketing plans and annual calendars. Also check out our Free Template for Tracking Marketing Goals, Strategies and Tactics that guides you through how to create measurable annual marketing goals for your business.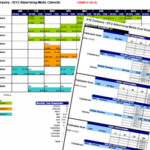 Advertising Media Plan Template Package – Only $9.99
The Advertising Media Plan Template is a comprehensive, downloadable template package featuring a fully editable excel file with templates for annual advertising media plans, media cost analysis and media calendars.
Download full package for only $9.99. (with unlimited use)
Templates and resources developed by SBMarketingTools.com are created and/or reviewed by the editor of SBMarketingTools.com and are based on over 20 years of corporate marketing and small business marketing consultanting experience.
---
---
The following two tabs change content below.
Latest posts by Diane Seltzer (see all)